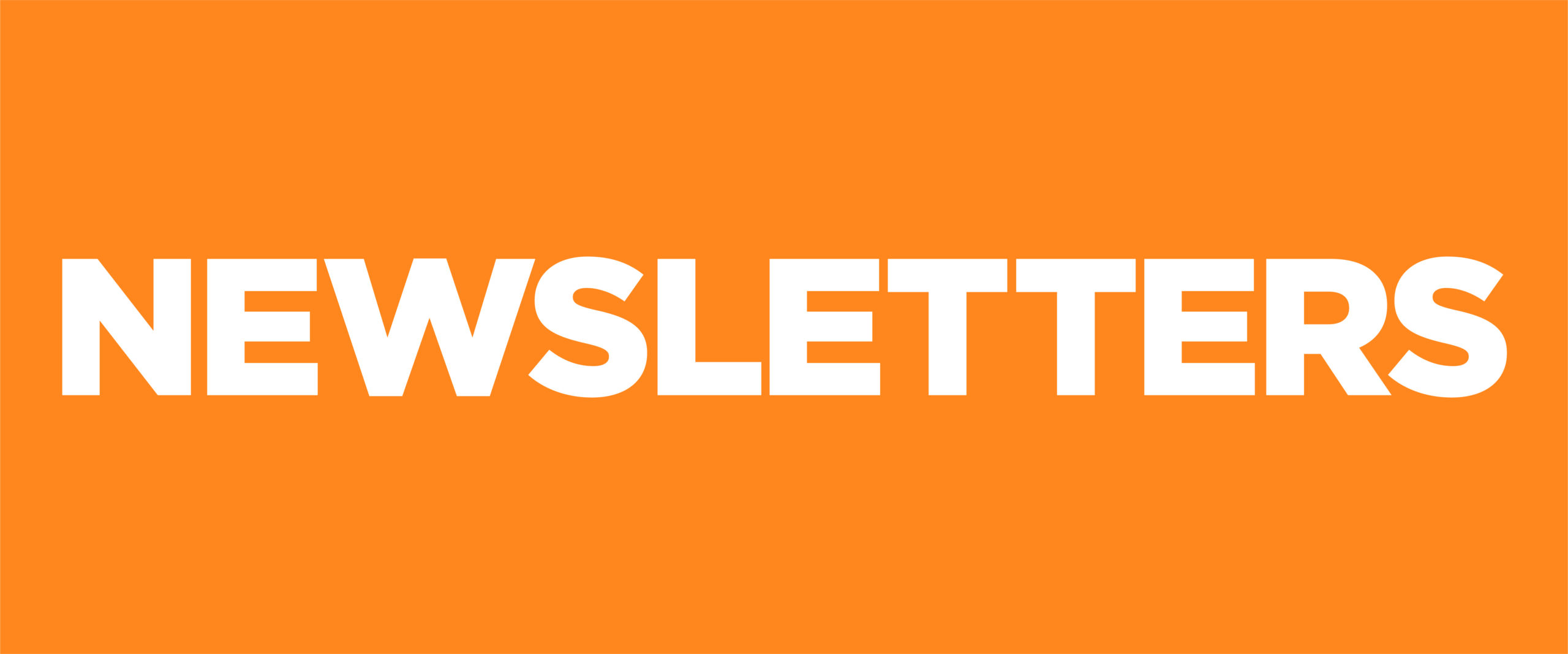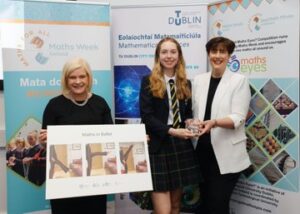 Maths Eyes Award Winners

The Maths Week Ireland Have You Got Maths Eyes award ceremony took place on May 25 at the TUD (Technological University Dublin) Grangegorman Campus with Minister Norma Foley, Ciaran O'Sullivan, TUD vice-president and registrar Dr Mary Meaney and the Maths Week team. Pictured above, Minister Foley, Dr Sheila Donegan (Calmast, SETU) and Lauren Powell The King's Hospital School a winner in the U19 category
Under 7 Winners
Ruairi Lynch, St. Mura's National School, Donegal
Tom Lynch, Parteen National School, Clare
Jack Reilly, St. Kilian's Junior National School, Dublin
Zoe Townsend, Kilternan Church of Ireland National School, Dublin
Under 7 Overall Winner

Gina Farnan, St. Mura's National School, Donegal
Under11 Winners
Aidan McNulty, Scoil Mhuire B&C, Donegal
George Greenwood, St. Cremin's National School, Westmeath
Conor Donohoe, The Downs National School, Westmeath
Ollie and Evie Mc Connellogue, St. Brigid's National School, Donegal
Under 11 Overall Winner

Sorcha Coen, Scoil Mhuire B&C, Donegal
Under 14 Winners
Joe Sheahan, Killaloe Boys National School, Clare
James Kehoe, Alex Rudkovskij and Shane Rock, Father Cullen Memorial National School, Carlow
Katie Kelly, Tarmon National School, Roscommon
Cian Clarke, Sancta Maria College, Mayo
Ailidh Swann, Scoil Mhuire B&C, Donegal
Under 14 Overall Winner

Tríona Nic Roibeóird, Maedhbh NicCórthaigh, Lara Ní Ruairc, Gaelcholáiste an Phiarsaigh, Dublin
Under 19 Winners
Tom Murphy, Borris Vocational School, Carlow
Brannan Jio, The King's Hospital School, Dublin
Leah O'Flaherty, St Patrick's College, Cork
Eleonora Jannelli, St Patrick's College, Cork
Under 19 Overall Winner

Debbie Odebunmi, Cnoc Mhuire Secondary School, Longford
Family and Community Winners
1st Year Maths Class, Patrician Presentation Secondary School, Tipperary
Family and Community Overall Winner

Year 3 UC, St. Colmcille's Primary School,Derry
Project Category Winners
4th Class École Euopéenne III Brussels
Mary Immaculate College After School Project Limerick
Lauren Powell The King's Hospital School Dublin
Niadh Reilly, Loreto Secondary School, Meath
Overall Project Category Winners
Corpus Christi, Limerick
Fergal O'Sullivan Visual Impact Award

Tom Murphy,

Borris Vocational School, Carlow
Developing Awareness of Maths Anxiety in Ireland – 12 June Cork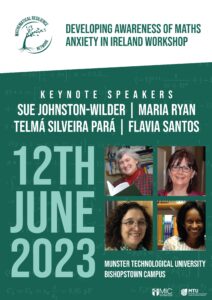 Presented By/Facilitated By:
Sue Johnston-Wilder, Associate Professor, University of Warwick, UK
Maria Ryan, Lecturer in Business, Mary Immaculate College, Ireland
Telma Pará, Research Collaborator, Universidade Federal de São Carlos (UFSCar), Brazil
Flavia Santos, Lecturer/Assistant Professor, University College Dublin, Ireland
Seminar Description
Maths anxiety is a psychological phenomenon in which a person experiences fear, tension, or discomfort when faced with mathematical tasks or situations. It is a common problem among students in higher education, particularly in subjects that require a strong mathematical foundation such as physics, engineering, and economics. Maths anxiety can have a range of negative effects on a student's academic performance and well-being and can also have wider implications for a student's academic and career prospects.
Join the Irish Branch of the Mathematical Resilience Network for a Maths Anxiety Awareness Day workshop!
Statistics Lecturer Rafael De Andrade Moral receives Maths Week
Maths Week Ireland takes place from
Over 400 young people across the
On 20 September 2020 a sad story circulated about a man in Spain who was evicted from his flat along with his 110 cats. It was claimed in the story that they all descended from a pair of cats the man took in 3 years ago. Is this possible? Can we use maths to check? Find out here